<< Go back to the home page
Turns out Simka really did force his workers to invest in the internal Slack channel of 16+ "Bunny Bravo" crowdfunding team members [Op-Ed]
---
Posted on November 9, 2017 at 11:40am PST SUBMITTED SCREENSHOT RELEASED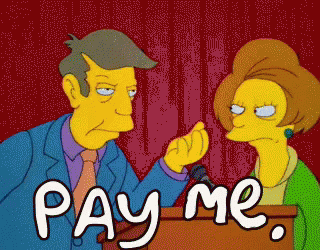 Several screenshots, emails, and texts submitted by disgruntled workers
hired by Mychal Simka to perform services
for the "Bunny Bravo" campaign are now being released.
These individuals state that they
"worked under the pretense of Mychal's contractual promises to pay them once the $500k was raised" (which it was, in full, because of their tireless efforts working to promote the campaign). They then got stiffed by Simka Entertainment
, despite the fact that his well-known Crowdfunding Attorney had drawn up the vendor contracts that Mychal signed.
Slack screenshot from "Adventures of Bunny Bravo" campaign laborers forced to PAY THEIR CLIENT pay Mychal Simka via MicroVentures (First Democracy VC/Indiegogo) investment, then never get paid their compensation for contracted work performed!.
Ask yourself: would a responsible crowdfunding sponsor actually create an entire mission-critical effort via a "Slack Channel"? C'mon, the guy forced workers to ANNOUNCE once they invested,
SHAMING THEM into PAYING HIM, when HE SHOULD HAVE BEEN PAYING THEM
.
Simka Entertainment (as shown above) literally took a tally of all of his workers that have invested displayed it in public Slack forum to humiliate and badger the workers have not yet ponied up the cash, whether or not they wanted to invest in Adventures of Bunny Bravo.
---
Tags:
Entertainment, Barry Katz, Greed, TMZ, Film Crowdfunding, Equity Crowdfunding, First Democracy VC, Indiegogo, Reg CF, Mychal Simka, Crowdfunding, MicroVentures, Hollywood Attorneys, Legal Intimidation to Stiffed Vendors, SuperdopeTV, Bill Clark, Leighton Lloyd, Hollywood, Lou Bevilacqua, Hollywood, Ariana Grande, Nickelodeon, Kat McNamara, Leon Thomas, Amber Frank, Garrett Clayton, Twitter, Bill Clark, Drake & Josh, Private Equity, Carlos PenaVega
Simka Forced Whole Team to Invest
---
Equity crowdfunding platforms were supposed to fund startups. Now they're just trying to fund themselves. ➡️ https://t.co/RN18EnEMcT ⬅️ @YieldTalk @FINRA @Outline 🤑 pic.twitter.com/PZe9FC89mU

— JOBS Act Title III Predatory Financing (@RegCF) December 14, 2017
Most Popular in Crowdfunding
1) SuperdopeTV - Lack of disclosure about secret $120k/year COO recognized by SEC

CROWDFUNDING DISCLOSURE
2) To SuperdopeTV investors, a MATERIAL CHANGE was intentionally kept a secret

NO FORM C AMENDMENT
3) How Atty Leighton Lloyd became SuperdopeTV COO; Silencing attempt by Estelle & Kennedy

CEASE & DESIST
4) How much abuse has been reported at MicroVentures?

MEDIUM.COM & GLASSDOOR REVIEWS
5) None of Simka's crowdfunded companies have websites or offices

DO SIMKA'S COMPANIES EXIST?
6) CAPTURED: Simka's deleted drunk investor discussion rant

PRIVACY VIOLATIONS
7) MicroVentures Investor Information Privacy Breach

INVESTORS OUTRAGED
8) Gipson Hoffman attorney hired to settle up on an overdue "Bunny Bravo" bill

LLOYD IS COO PRIOR TO 11/28
9) Merry Christmas email is futile intimidation attempt, CC's 5 lawyers

HO HO HO! WHO WOULDN'T GO?
10) Slick Lou Re-Negs on 7/19 "Bunny Bravo" contracted vendor equity issuance

CAMPAIGN MARKETERS SCREWED
11) Due dilegence, privacy, & disclosure dark cloud over SuperdopeTV's crowdfunding offering

PEOPLE CATCH ON
12) Bunny Bravo vendor forced to "settle out of court"

ATTY. LEIGHTON LLOYD
13) Bunny Bravo campaign team (16+ people) REQUIRED by Simka to pony up cash

MAKING WORKERS INVEST
14) 'TMZ' & 'Hollywood Reporter' reach out to our bloggers

HOLLYWOOD CATCHES WIND
I guess the old idiom "fake it til you make it" has crossed over into crowdfunding, where @MychalSimka told Bunny Bravo investors that he was the brain behind "Birds of Paradise". Wrong, #deceptive and downright sick. It was a @Lionsgate / @GrindstoneEnt film NOT @SimkaEnt pic.twitter.com/vTS6wQHtnX

— JOBS Act Title III Predatory Financing (@RegCF) December 13, 2017